BlueZone Builds MARTAC Sustainment Solution
MANTAS Unmanned Surface Vehicle Support for Australia & New Zealand
BlueZone Group has begun working closely with Marine Tactical Systems (MARTAC) to build the sustainment capability for the advanced USV and associated systems. BlueZone is an Authorised Dealer for MARTAC equipment and will provide full depot-level support from workshops located in Newcastle, NSW and Perth, WA.
The establishment of joint technical understanding and management overview was begun with a presentation by MARTAC that covered the unique MANTAS technology. The MANTAS USV vessel is a catamaran hull design based on a powerboat racing vessel that set world speed records.  This catamaran design is stable at both high and low speeds and in challenging water environments.   The stability comes from the hull which provides for continuous laminar flow for over 80% of the vessel hull length.
The laminar flow means that instruments such as Multi Beam Echo Sounders (MBES) and Acoustic Doppler Current Profilers (ADCP) can be mounted very close to the hull and achieve good data at speeds through the water of 8 to 10 knots. Tight coupling between the Inertial Measurement Unit (IMU), primary Global Navigation Satellite Systems (GNSS) and secondary GNSS means that a minimum offset between with two antennas can be achieved. Setup for high quality surveys and scientific data is thus minimised.
The MANTAS design incorporates many innovations including watertight and water-cooled enclosures that enable folding of the hull without impacting control or payload equipment. The water-cooled enclosures enable high performance computers to be run without degradation due to high ambient temperatures.
BlueZone and MARTAC will work with customers in Australia and New Zealand to tune boats for optimum combinations of burst speed, average speed endurance and loitering capability. This can be achieved by several methods including the use of custom CNC milled propellors available in 2 to 6 blades with Cleaver or Round ear blade shapes. Diameter and pitch can be tailored to specific customer use cases and propellors can be tuned and matched for specific motors.
The TASKER Control System provides a powerful method for autonomous, semi-autonomous or manual control of the MANTAS USV.  It supports a mission map, real-time video and web-based sensors interface and multi-layer communications for control reliability.
BlueZone depot level support for MANTAS USV will include a capability for complete depot-level fault finding, repair and set-to-work and will be developed as further MANTAS deliveries are made.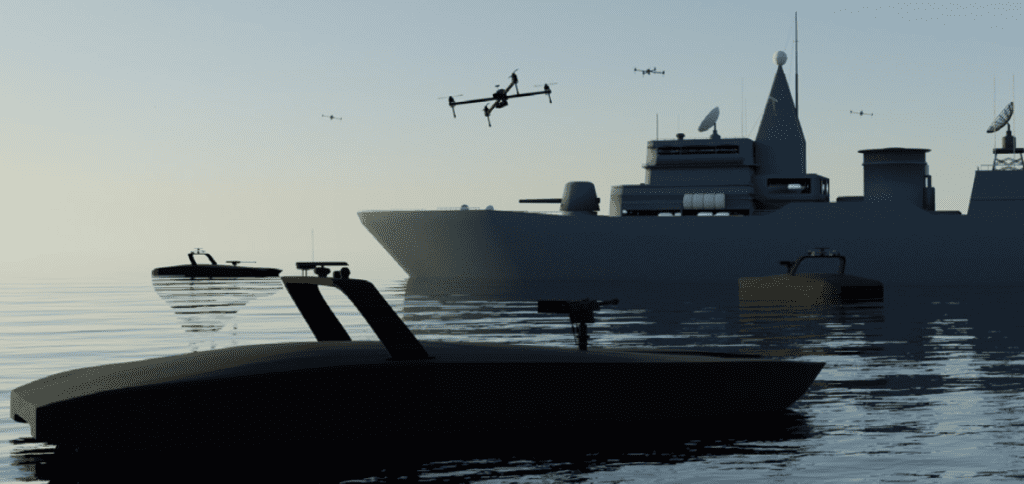 MARTAC MantaNet supports the management and connectivity of multiple USVs with multi-layer communications control for reliability.

MANTAS sustainment in AU/NZ will be supported by an open architecture modular design. Related components are grouped into waterproof LRU's (Line Replaceable Units) allowing the full hull to act as the ballast control device for multiple-mode operations.
---