First Water Resources Conference
Following the success of the inaugural "Marine Measurements" conference, BlueZone and Teledyne RDI joined forces to stage an event that would bring together hydrographers, scientists and engineers operating in the Water Resources community to network and learn. Teledyne provided strong support for the conference with representatives from Teledyne RDI demonstrating RiverRay and other products that provide highly accurate Doppler technology for flow measurement and discharge applications in the inland environment.
Keynote Speaker
The conference was opened by Adjunct Professor David Hood AM FIEAust CPEng who gave a passionate presentation concerning the uncertain future resulting from anthropogenic global warming and climate change. Professor Hood is currently working with the Faculty of Science and Engineering, and Program Leader for Sustainability in Infrastructure at the CRC for Infrastructure and Engineering Asset Management (CIEAM) to infuse sustainability across research, teaching and learning at the Queensland University of Technology. He is Accredited Presenter (trained by Al Gore) for The Climate Reality Project and his presentation provided a great deal of food for thought in considering the impact of the measurement and management of water resources as they become impacted by climate change.
Conference Opening
UVS was pleased to host Harry Maxfield, Vice President Sales and Marketing, to open the conference of behalf of Teledyne. Harry briefed the audience on the recent reorganisation of the Teledyne companies and the ongoing effort by Teledyne RDI to provide outstanding service to ADCP customers in all markets including water resources. Harry noted the long term partnership between RDI and UVS and that recent initiatives to establish a service centre in Australia for RDI products would provide a new level of service, repair, modification and upgrade capability for the region.
Teledyne Odom and Teledyne BlueView
Providing added interest for the delegates was the attendance by two companies from the Teledyne Imaging segment: Teledyne Odom and Teledyne BlueView. Thanks to Griffith University, equipment from both of these companies was demonstrated for the delegates on a research boat.
Teledyne Odom Hydrographic Survey Support Specialist, David Andrews, presented the features and capabilities of the MB1 Multi Beam Imaging Sonar. The sonar was deployed used to identify scouring and sand ripples in the sea floor. David said that the water was very shallow at around 2 metres, however, the versatility of the MB1 showed that it was a useful tool for operating in the Southport area.
Teledyne BlueView Commercial Sales Manager – Americas & Australia, Brian Berna, presented the innovative range of BlueView 2D and 3D sonars. This state of the art, compact acoustic imaging and measurement solutions are ideal for civil engineering, transportation, and water resources applications where water turbidity prevents visual inspection.
Conference Program
A busy
conference program
was comprised two paper sessions were chaired on the first day by Neil Trenaman for UVS and Jim Rogers for Teledyne RDI. Presentations can be viewed
here
. The day was wrapped up with a lively and informative presenter panel discussion and Q&A session that provided many valuable insights into the industry and issues faced by hydrographers. The conference was brought to a close with an informal feedback session mediated by Margo Newcombe, Director of Marketing at Teledyne RDI. Feedback was very positive and a number of suggestions were taken on board by the UVS/RDI team for improving the next ADCPs in Action in Australia.
Interactive Training Sessions
The second day was devoted to interactive training sessions hosted by industry experts. Henning Hang, Asia Pacific Manager & Principal Hydraulic Engineer, presented classroom training on SxS Pro, Moving Bed condition and recommendations for High Quality ADCP Discharge Measurement. This was supported by dockside and boat demonstrations of River Ray and Teledyne Blue View 2D sonars and the MB1 Multibeam Echo Sounder.
Gold Sponsors
Thank you to our sponsors whose support was fundamental to the success of the event.
• Teledyne RDI
• Teledyne Odom
• Teledyne BlueView
• Hydrological Services
Marine Measurements, October 8-9, 2012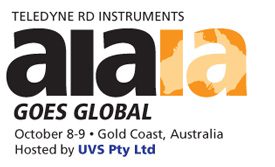 Our inaugural event was a big success with over forty attendees meeting on the Gold Coast for a day of presentations followed by a user workshop.