Shooting Fish in a Barrel
Shooting Fish in a Barrel
BlueZone Group congratulates technology partner, SeaView Systems who have been awarded a $25,000 prize awarded for their submission to the Michigan Department of Natural Resources' Great Lakes Invasive Carp Challenge.
In the USA, millions of dollars and countless hours have been spent over that last 20 years trying to control and prevent the spread of invasive bighead and silver carp (also known as Asian carp). Multiple technologies are currently being deployed, however, current measures are not 100% effective in preventing invasive carp from entering the Great Lakes.
"The solution for The Great Lakes Invasive Carp Challenge was a confluence of our previous experience:  weapons systems, acoustic imaging, seismic survey, ROV tunnel inspection and Artificial Intelligence," said Matthew Cook, president of SeaView Systems.  "The effort to combat invasive species, particularly Asian carp, is challenging but vital to the health of the Great Lakes." The "secret sauce" of the whole concept lies in the artificial intelligence needed to detect and discriminate carp from sonar data using their swim bladders as an identifying marker.
Matthew said that just as research on the Great Barrier Reef has developed an AUV to robotically inject poison into Crown of Thorns starfish AI driven ROVs/AUVs to manage other invasive species populations are just around the corner.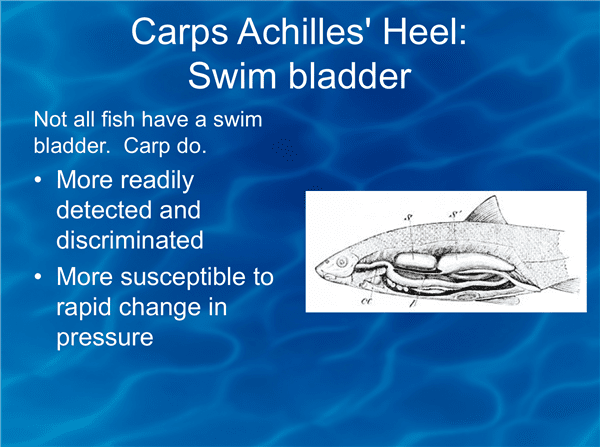 Carp will be detected using their swim bladder which is readily identified using sonar (acoustic) technology.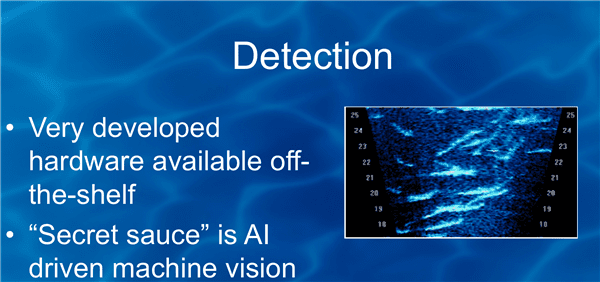 High frequency multi-beam imaging sonars are available off-the-shelf to support fish detection.
---