SeaBotix Service Starts-up
SeaBotix Service Starts-up
Service for Teledyne SeaBotix Remotely Operated Vehicles (ROVs) has started in style at the BlueZone UVS facility in Newcastle, NSW. In November the workshop was busy with service and repair of four LBV systems operated by the Royal Australian Navy. 
The systems operated by the RAN are equipped complete with Little Benthic Crawler (LBC) skids and Tritech sonars enabling them to provide flexible capability for underwater search and observation, combined with the ability to crawl and inspect ship hulls when required.
BlueZone UVS Workshop Manager, Grant Maddison, said that the service activity had gone smoothly and it was satisfying to put into practice the knowledge gained from recent training provided in Australia by Teledyne SeaBotix. "Our Newcastle workshop has deep experience in ROV maintenance, repair and upgrade," said Grant, "we have worked on several vehicle types ranging from the powerful Saab Double Eagle system, the benchmark Saab Seaeye Falcon and now the versatile SeaBotix range." Technicians from BlueZone UVS workshops have also assisted Saab Seaeye with production of ROVs and this experience is shared within the company to provide ROV service to customers in Newcastle and Perth.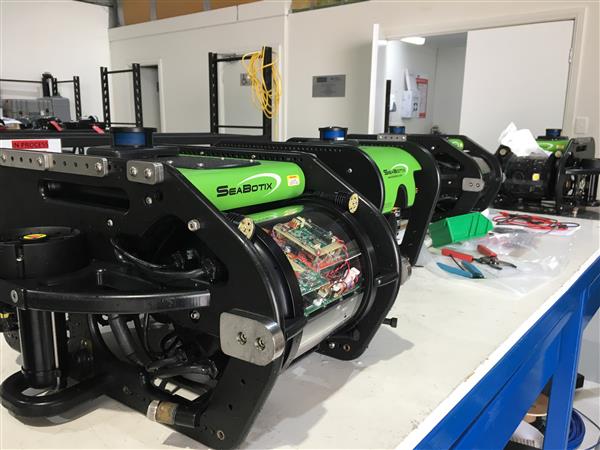 Teledyne SeaBotix LBV vehicles lined up for service at the BlueZone UVS facility in Newcastle, NSW.
---