BlueZone Group is pleased to announce the launch of the newest Teledyne Oceanscience Z-Boat in their family of Remotely Operated Surface Vehicles, the Z-Boat 1250.
The Teledyne Oceanscience Z-Boat he Z-Boat 1250 is ideal for surveyors looking for a reliable, remotely controlled, single beam echosounder (SBES) boat that is truly portable.  The boat is IP67 rated and manufactured with ABS hulls and a collapsible sliding crossbar to make it rugged, light weight, and easy enough for one person to carry, providing remotely operated survey capability in difficult to reach areas. This SBES boat is great for use in rivers, streams, lakes, flood areas, tailing ponds, and more.
Key Features:
– IP67 Rated
– Lightweight, one person portable
– Ruggedised design
– For Single Beam Echosounder Surveys

Benefits:
– ​Portable and convenient
– Enables remotely operated surveys in difficult to reach areas
– Robust and easy to maneuver
– Single person set up and deployment
– Safe – operate from shore
– Real time data access directly to your shore based laptop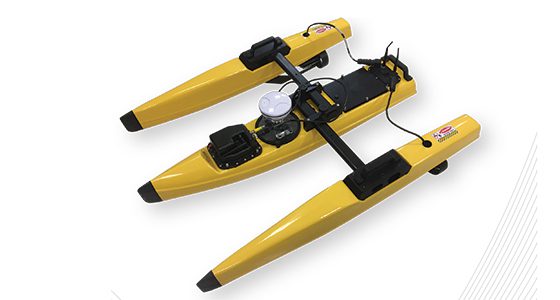 The Z-Boat 1250 is ideal for a multitude of work environments including mining pits and tailings ponds, sewage treatment plants, environmentally sensitive areas, construction and inspection zones, dams and reservoirs, lakes, harbors, rivers, and more.