SRS's FUSION ROV is an underwater vehicle that is equipped with a comprehensive suite of high-end sensors to deliver maximum capability. Imaging sensors provide visual feedback in all modes, while the navigation sensors enable sophisticated automation and control in a tightly integrated form factor.
Multi-Mode
As a battery powered system the FUSION has the unique ability to operate in different modes. Without the use of tether the FUSION operates as an AUV and with a tether attached as a ROV. A third capability includes the attachment of a module to FUSION enabling diver propulsion and navigation. One asset, one operator interface and multiple functions.
Remotely Operated Vehicle (ROV Mode)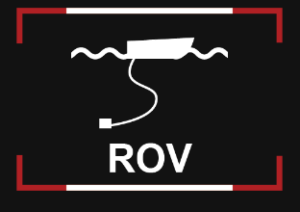 In tethered ROV mode FUSION provides real time control and sensor data to the HMI.  There are different operational modes including joystick control, control mode and mission mode.  The ultra small diameter tether has minimal impact on the performance/capability of FUSION and the longer lengths benefit larger excursions.
When operating in ROV mode the operator has full supervisory control and able to determine the level of desired autonomy.  Manual control with assistance in joystick mode or touchscreen automated control in control mode or "AUV" type mission mode all provided real time sensor feedback.  In ROV mode operators are also able to interact with optional devices fitted such as manipulators, payloads or third party devices.
Autonomous Underwater Vehicle (AUV Mode)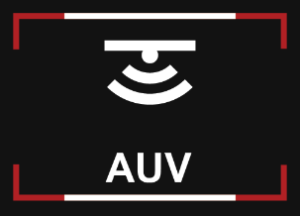 FUSION can operate as an untethered AUV by executing preprogrammed missions designed in the User Interface and loaded into the FUSION.  Mission designs can vary from traditional grid pattern surveys to more complex designs that include varying altitude, heading and velocity.  Additionally, with FUSION a vectored vehicle further mission specifics can be applied such as orbit marker and pitch.
Operators can set sensor data acquisition preferences to include forward looking sonar, side scan sonar, video, etc. While operating in AUV mode the USBL system can be used to track FUSION as well as send commands such as abort or change mission.  Additionally, with the USBL FUSION can be acoustically commanded to perform tasks such as drop payload, orbit or return home.
Diver Navigation & Propulsion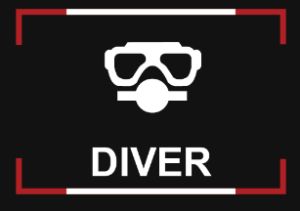 Expanding on the AUV/ROV mode aspect of FUSION is the ability to use FUSION as a Diver Propulsion and Navigation device. The simple to install module attaches to FUSION providing control of thrusters for propulsion and an intuitive screen for navigation, forward looking sonar, side scan sonar and more. Once on location the FUSION can be put into station hold mode allowing the divers to free their hands for tasks. When used in conjunction with the USBL system multiple FUSION systems in diver mode can communicate via messaging as well as with the surface.
Comprehensive Sensor Suite
The FUSION departs from the traditional flexible platform approach and incorporates a suite of high-end sensors designed to enable operators to accomplish complex missions.  From a variety of imaging sensors to navigational aids the FUSION is a tightly integrated system that improves vehicle dynamics and eliminates troublesome cables/connectors.
Imaging Sensors – Forward Looking Multibeam Sonar, HD Video and Side Scan Sonar
Navigation Sensors – DVL, AHRS, GNSS, USBL, Pressure and Temperature
Beyond the included sensors are optional instruments to augment the capability of the FUSION.  The optional sensors are designed to quickly interface with the FUSION system through auxiliary ports, picatinny rails or the unique utility cavity located on the underside of the vehicle.
Intelligent Control & Navigation
Another aspect in which FUSION excels is the intelligent control and navigation system with intuitive supervisory control improving operator confidence and maximizing the quality of data collected.  Vehicle characteristics and dynamics are carefully mapped to help improve responsiveness, stability and predictive nature.
Careful attention was given to the choice of navigation sensors as well as the mechanical installation to ensure accurate feedback and precise data. FUSION has attitude control, station hold, waypoint navigation and path following.  The simple to use interface provides even inexperienced operators with the confidence to complete demanding missions.  No need for a dedicated engineer to run the automation system.
Human Machine Interface
Maintaining the portability of the FUSION system are the Human Machine Interface (HMI) controllers.  There are two (2) options that cater to different requirements yet both provide full system control, mission programming, mission analysis and completely self-contained. Each HMI is designed for use in demanding environments.
HMI Compact: The compact unit is a single touchscreen design with physical controls offering handheld operation where footprint is a premium.
HMI EVO: The EVO design incorporates a dual screen and removable touchscreen tablet in a "briefcase" design.  Added screen real estate to spread out the data.
Read More:
For more information about the SRS Fusion ROV, Contact the team at BlueZone.