REMUS Demonstrates Operational Flexibility
REMUS 100 Deployed from Unmanned Aerial Vehicle
In an event hosted in the Royal Navy carrier HMS Princes of Wales, the Future Maritime Aviation Force Accelerator Day brought together experts from the navy, MOD and industry to meet and discuss the vision for drone operations.
Brigadier Dan Cheesman, Chief Technology Officer for the Royal Navy, co-hosted the event with Commodore Nick Walker, Deputy Director Naval Aviation, calling on attendees to consider how technology and innovation could transform the way the navy operates in the skies now and into the future.
The aim of the Future Maritime Aviation Force is to see how the Royal Navy could gain advantage from the pace of technological development already underway in the commercial sector.
"The aim is to transition rapidly from what we have now to whatever we want in the future," said Brig. Cheesman. "We live in an exponential world of technological change and if we can integrate the latest and get it on operations, it will deliver battle-winning advantage. Specifically, getting that technology onto ships like HMS Prince of Wales would be a game-changer."
In one demonstration a REMUs 100 Unmanned Underwater vehicle was launched from a large UAV drone. Several successful REMUS launches were completed with no issues experienced during the trials. The demonstration showed that the large UAV was more than capable of deploying a REMUS R100 or R300, with a range of about 100km.
For concepts that require over-the horizon prosecution of targets such as long-range MCM search, this concept can provide the capability to get the high-performance REMUS 100 UUV into the area of operations quickly and effectively.
Read More:
Royal Navy and REMUS Accelerates Adoption of Unmanned Systems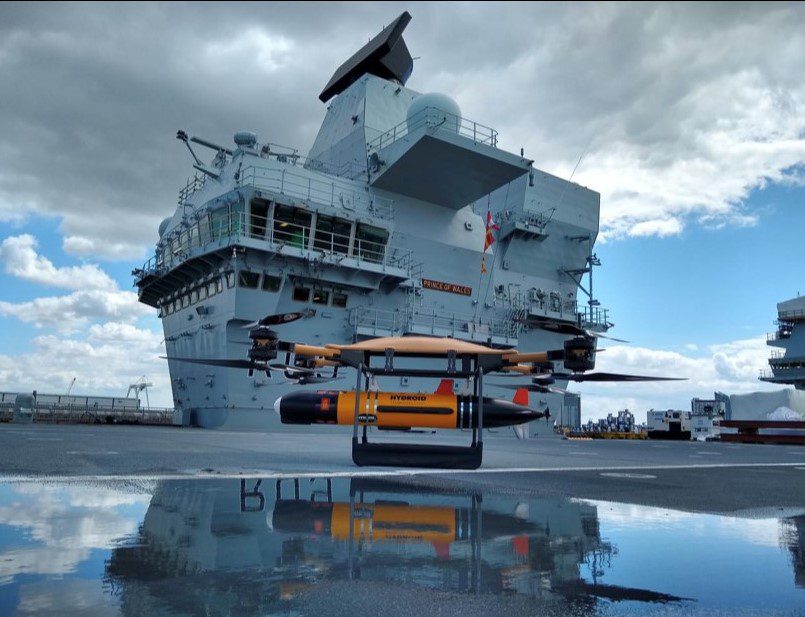 REMUS 100 is deployed by a large UAV with a range of 100km.
---