REMUS 100 New Generation – High Altitude Bottom-Lock
At the Teledyne Marine Technology Workshop in San Diego, Nick Beaulieu of Hydroid provided a comprehensive description of the integration of the new Teledyne RDI Pioneer 300kHz Phased Array Doppler Velocity Log (DVL) into the New Generation REMUS 100 Autonomous Underwater Vehicle.
The Pioneer DVL ushers in a new era in DVL technology with the introduction of 600kHz and 300kHz phased arrays. Designed with unmanned and remotely operated vehicles in mind, the compact Pioneer DVLs are ideal for integration into underwater vehicles. The Pioneer combines Teledyne RDI's proven bottom detection algorithms and single ping bottom location accuracy with broadband velocity processing technology, providing users with highly reliable precision velocity data for navigation and position processing, even over indeterminate terrain.
The integration of the Pioneer DVL provides a powerful new capability for the REMUS through implementation of a significantly increased bottom lock capability from 35 to 200 metres. For REMUS applications that require high accuracy navigation such as Mine Counter Measures (MCM), the confidence in the navigation solution is increased through bottom-lock aiding of the INS now available in depths to 200 m. This provides an increased deployment range for the REMUS 100 that enhances the tactical options available for MCM tasking. Additionally, the high altitude bottom-lock reduces the risk for MCM operations through increasing stand-off distances for MCM search operations.
Complementing the high-altitude bottom-lock capability are other improvements to the New Generation REMUS 100 that offer significant operational benefits. Integration of new low-power processing technology combined with more powerful battery capability has increased endurance from 8 to 12 hours and maximum range from 55 to 72km. Upon recovery of a REMUS 100, fast turnaround is enhanced through reduction of battery charge time from 12 to 6 hours and implementation of increased data download speeds of 1 GB/s.
NOTE: The conformal array version of the Teledyne RDI Pioneer 300kHz DVL is currently on an exclusive arrangement between Hydroid and Teledyne for AUVs.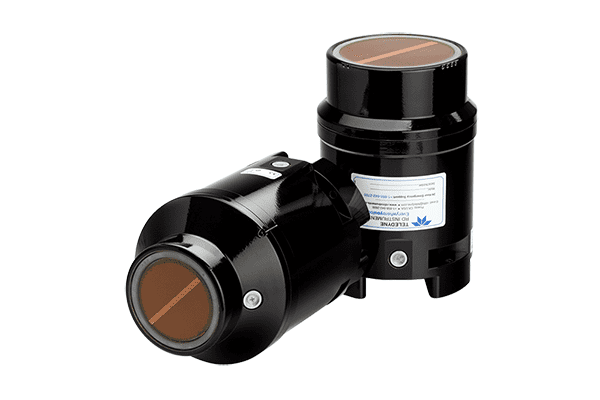 Designed with unmanned and remotely operated vehicles in mind, the 600kHz and 300kHz compact Pioneer DVLs can be packaged into small, portable, underwater vehicles.

 New Generation REMUS 100 marine robot features advanced technology and capabilities that are the first of their kind in the industry, enabling customers to have increased autonomy and creativity during their missions.
---