Kongsberg Camera Repair
UVS announced today that agreement had been reached with Kongsberg Maritime Pte Ltd to provide repair and service of OE10-102 pan & tilt units together with all Kongsberg camera models at UVS workshops in Perth, WA and Newcastle, NSW.
Kent Lu, Subsea Workshop Service, Repair and Rental Manager for Kongsberg Maritime said that "Many Australian based companies prefer to have camera service completed in Australia to reduce costs, avoid freight and customs charges and speed turnaround of repairs".
Mark Musarra, General Manager of UVS Perth said that UVS has a well-established history for repair of all models of Kongsberg cameras and pan & tilt units. "With our many years of experience and the support of the Kongsberg group, particularly Aberdeen office, we are able to effect repairs locally, generally without the need to return to base", said Mark. The UVS philosophy is to "service what we sell" and Kongsberg camera service is a key component of the service that is provided. Customers with equipment for service or repair should contact Mark Musarra in the Perth office or Jen Benson in the Newcastle office for East Coast and New Zealand enquiries.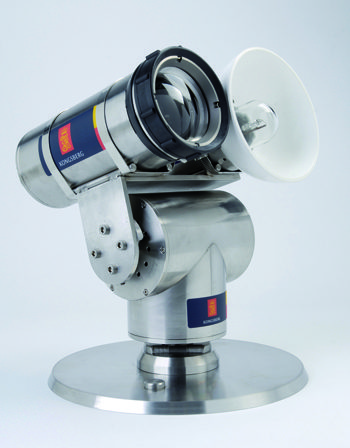 Kongsberg Maritime OE10-102 Pan & Tilt with OE14-502
High definition color zoom camera and OE11-141 Underwater HID Lamp
---